Fight Your Fight - Revolt! by Enzo & Nio - Brooklyn, NY
There are many ways to initiate change. The mighty bull is chased off by the many small and relentless ants. The most powerful machines are made still from the removal of the smallest screws. Change is in the hands of the smallest and the weakest. Change is at the discretion of the many.
Photoset reblogged from Ryan Seslow with 10 notes
As a part of the soon to be launched ENCRYPTED FILLS project, Jennifer Caviola aka CAKE and I have jumped into an animated GIF series of her work by bringing her Brides to life.

Here is GIF #1 & #2

Full info coming soon. Stay Tuned.

more here - http://ryanseslow.com/art/collaborations/collab-with-cake/
Photo with 2 notes
Goddess of Justice (Goddess of Greenpoint) she didn't last long - some people just hate a sexy BDSM goddess. #enzoandnio #enzosarto #niogallo #wheatpaste #streetart #urbanart #goddess #goddessofgreenpoint #greenpoint #brooklynstreetart #nycstreetart
Photo with 7 notes
What Ya Got? Animated Emergency Box by Enzo & Nio - Brooklyn, NY
Photo with 2 notes
Pull if you feel like dancing! #alarmpull #enzoandnio #stickers #slaps #streetart #urbanart #stickerart #stickerporn #enzosarto #niogalla
Quote with 1 note
What Ya Got? by Enzo & Nio - Brooklyn, NY
—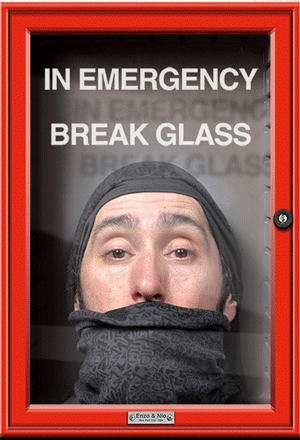 Photoset reblogged from HUGCLUB with 113,095 notes
Woman Photographs Herself Receiving Strange Looks in Public

"I now reverse the gaze and record their reactions to me while I perform mundane tasks in public spaces. I seek out spaces that are visually interesting and geographically diverse. I try to place myself in compositions that contain feminine icons or advertisements. Otherwise, I position myself and the camera in a pool of people…and wait.

The images capture the gazer in a microsecond moment where they, for unknowable reasons, have a look on their face that questions my presence. Whether they are questioning my position in front of the lens or questioning my body size, the gazer appears to be visually troubled that I am in front of them."

Photographer: Haley Morris-Cafiero

Project: Wait Watchers 

Thought this was actually really cool and I'd share it with you guys! Takes a lot to get up there and do something like this. Love it!

this is such a fucking important project to me because i am constantly stared at in public in a negative way and turned into some disgusting object for the amusement of others and this is a peaceful way to confront those people

turning the spectators into the spectacle
Source: el-dispute
Photo reblogged from ENZO & NIO with 4 notes
Double play - Illegal is Better - Charmbomb
Photo reblogged from ENZO & NIO with 12 notes
Illegal is Better
Photo reblogged from ENZO & NIO with 4 notes
(withered but strong)

Vintage wheatpastes in NYC holding strong.
Bomba - Everyone wants what they're not. Harpo HONK.
Source: panda07ny